NEW HOME AMENITIES- FITNESS ROOMS ON THE RISE
November 17, 2022
/
/
Comments Off

on NEW HOME AMENITIES- FITNESS ROOMS ON THE RISE
Looking for something new to offer in your projects? Look no further than fitness rooms- one of the fastest growing and most in demand new home amenities.
The 2021 edition of NAHB's "What Home Buyers Really Want" (WHBRW) study, published by the National Association of Home Builders, shows that fitness rooms are one of the most highly sought after rooms in the house, yet typically left to furnish after the home closing.
MORE POPULAR AMONG KEY DEMOGRAPHICS
The study found that 47% of all prospective buyers consider an exercise room essential, a number that has almost doubled since 2003. And that number rises the closer we look at it, with 61% of Millennial and Gen X prospective buyers agreeing, and 67% of prospects spending over $500k also stating an exercise room is essential.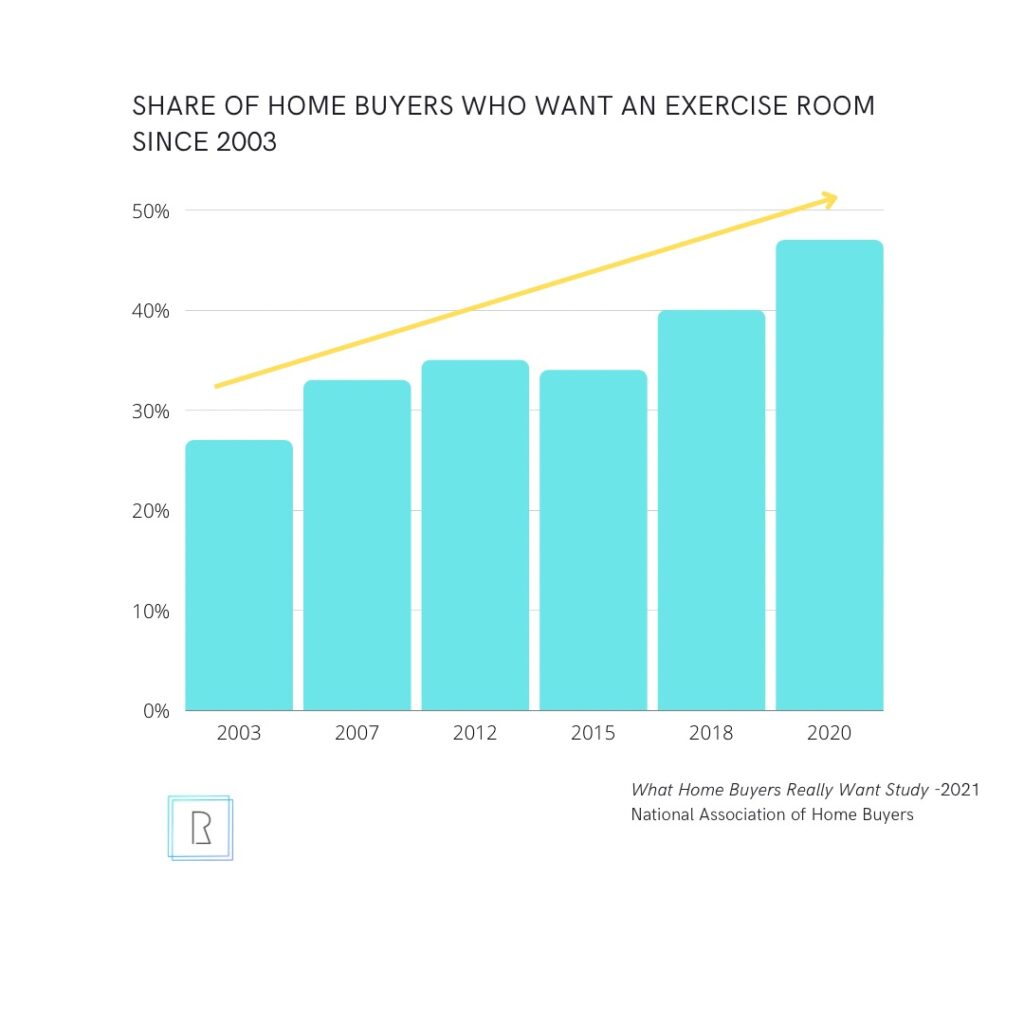 OUR SOLUTION
Did you know- Roombldr was created to help solve this problem? The idea was simple, to start a service that helps Home Builders offer fitness and wellness rooms in their projects, and in turn help their clients with a custom built, state-of-the-art fitness room ready on move-in day.
Roombldr started from a simple vision, what if you could build a new house and pick out a fitness room along with some of your other favorite amenities? We are here to help you connect the dots on one of the fastest growing and in demand new home amenities. Reach out to learn how.
DEMAND FOR FITNESS ROOMS WILL KEEP RISING
As consumers continue to look for more and new amenities for their homes, health and wellness will persist and fitness rooms will continue to be in high demand. Just imagine not having to spend the drive time just to find a gym, and also not having to deal with multiple people using the equipment sweating all around you. Working out at home in a room designed specific to your house plans, tailored to your workout goals, with premium equipment and eco-friendly gym flooring that matches your color schemes sounds pretty nice, right?
Access the complete study here.