HUUPE + ROOMBLDR- THE WORLD'S FIRST SMART BASKETBALL HOOP
We are excited to announce a new partnership with huupe, the world's first smart basketball hoop company. Huupe's innovative products feature a full size, 60" backboard with a built-in HD tv, wifi and streaming capabilities, live and on-demand training, shot tracking, and more. The huupe adjusts from 7.5 to 10 feet, and can be wall or pole mounted. It also installs very similarly to traditional basketball hoops, making it a great option for driveways, man caves, boutique gyms, playrooms, and more.
---
WHAT WE LOVE ABOUT IT
ENTERTAINMENT
For home owners looking for something new and unique- this is it. In addition to it's awesome training benefits, it's a great entertainment piece, essentially doubling as a high-def TV. With a wifi connection, you can stream just about anything to the backboard/screen, making it the centerpiece for your backyard, basement, or man cave.
PERFORMANCE IMPROVEMENT- HUUPE PRO
Live and on-demand classes, 1 on 1 training, shot tracking capabilities, and more. No need to spend extra money and hire a personal coach for your kids to help them improve their game. With huupe, you can plug into their awesome trainer network, find efficient & effective training programs, get instant data and feedback on your practice, and more, all on your own time. There are also group training classes available, making it a great option for schools looking for something new and engaging.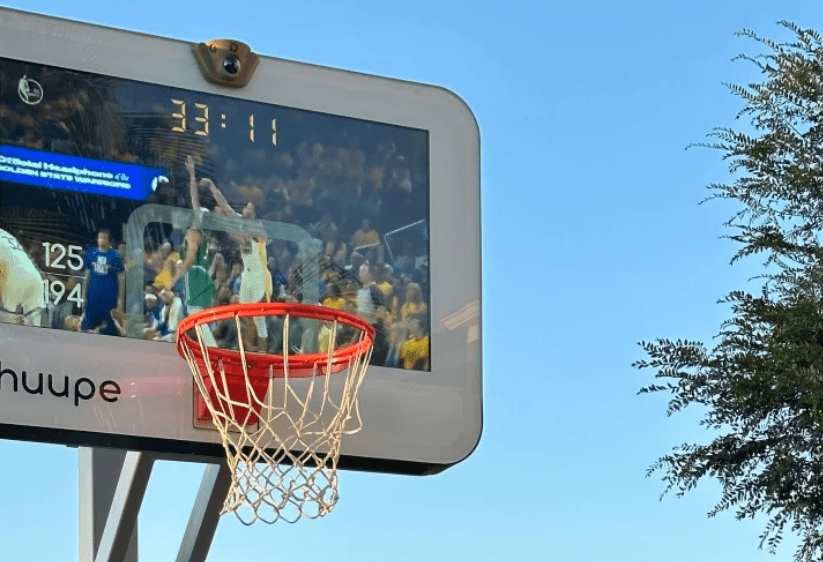 RESERVE YOURS TODAY
The huupe starts at $4,995 (classic) and $9,995 (pro). Roombldr is one of only a few select dealers nationally for huupe. Demand is expected to be high- please contact us today to reserve yours for your next project. Shipping in 2024.