PRODUCT SPOTLIGHT- LIFE FITNESS G7 FUNCTIONAL TRAINER
July 6, 2023
/
/
Comments Off

on PRODUCT SPOTLIGHT- LIFE FITNESS G7 FUNCTIONAL TRAINER
Strength training can provide a variety of benefits, from toning & tightening your muscles, boosting your metabolism, and even helping prevent injuries.
But if/when space is at a premium in your home gym, your options for strength training can be limited. Enter functional trainers, some of the most popular type of home gyms today. With cable motion technology (as opposed to a fixed bar to press/pull), you are better mimicking free-weight training and have a variety of adjustment points that help target different muscle groups (also helps keep you from getting bored with your equipment). Most of these gyms come in a space efficient design, allowing them to fit nicely into a corner.

Product Spotlight: Life Fitness G7 functional trainer
The Life Fitness G7 Home Gym features dual-adjustable pulleys that offer nearly limitless home exercise variety and customization. Cable motion strength training helps you build balance, stability, and power. Bring the health club experience home with the smartly designed G7 from Life Fitness.
KEY FEATURES
2:1 Cable Ratio
2 x 160LB Weight Stacks
80LB Effective Resistance per Stack
Multi-Grip Pull Up Bar
Dimensions (L x W x H) 48.5 in x 69.5 in x 83 in * REQUIRES 9 FOOT CEILING HEIGHT
G7 Sales Sheet (click here)
LIMITLESS TRAINING POSSIBILITIES
The G7 Dual Adjustable Pulley Home Gym is the ultimate cable motion training experience. Sleek and modern industrial design combined with solid and rugged construction — you can perform endless number of exercises at home on the G7 that engage stabilizing muscles while also targeting major muscle groups.
G7 FEATURES
• CABLE MOTION TECHNOLOGY
Provides endless exercise variety, utilizes more muscle fibers, and works more muscle groups simultaneously than traditional fixed motion exercises.
• FUNCTIONAL TRAINING
Enlists primary, secondary, and stabilizer muscles which enhances total body coordination.
• EFFORTLESSLY ADJUST
Adjust between 20 different height positions, various weights (up to 160LB per stack), and different attachments.
• VERSATILE ACCESSORIES INCLUDED
Equipped with a pair of medium length soft strap ergonomic handles, foot strap, thigh strap, straight bar, and exercise ball.
• OPTIONAL G7 ADJUSTABLE BENCH
Adjust between various positions during your workout. Easily fold up and lock into place for convenient storage.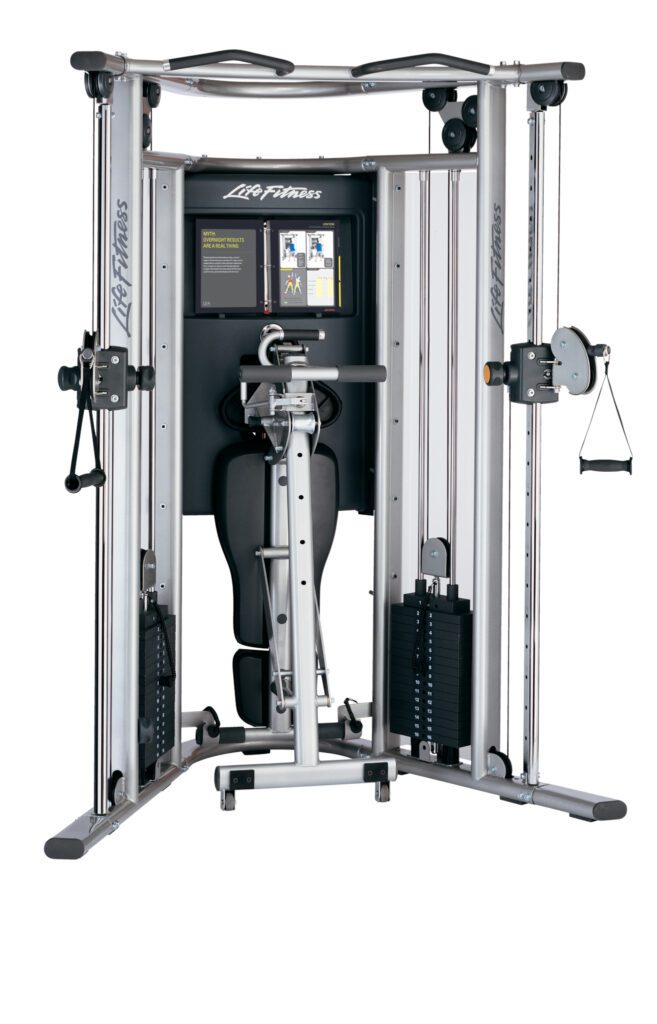 SPECIFICATIONS
• Brand: Life Fitness
• Weight Stacks: 2 X 160LB
• Cable Ratio: 2:1
• Cable Travel Length: 84″
• Effective Resistance: 80LB per Stack
• Max User Weight: 300LB
• Adjustable Bench Not included. Optional add-on.
• Abdominal/Oblique Exercises: 5
• Biceps Exercises: 5
• Chest Exercises: 12
• Functional Exercises: 4
• Leg Press Attachment: No
• Lower Body Exercises: 10
• Removable/Fold-Up Bench Optional
• Shoulder/Back Exercises: 15
• Total Number of Exercises: 55
• Triceps Exercises: 4
• Type of Motion: Cable Motion – user defined motion
• Instructional Material Video and Exercise Guide
• Dimensions (L x W x H)48.5 in x 69.5 in x 83 in (124 cm x 177 cm x 211 cm)
• Included Accessories: Straight bar, foot strap, thigh strap, stability ball
• Space Requirements: Recommended space for most gyms 10ft L x 8ft W (3m L x 2.45m W)
• Warranty: Lifetime on frame, welds, pulleys and parts; 3-year on upholstery, pads, and cables
(outside U.S. may vary)