How much does a fitness room cost?
March 8, 2023
/
/
Comments Off

on How much does a fitness room cost?
As the housing market continues to evolve and become more competitive, prospects will look for Home Builders that provide the best solutions and best options to fit their lifestyle. Bespoke rooms are becoming increasingly popular for Builders to offer, especially as consumers cocoon more at home. Thanks to a variety of reasons including health, time, and cost savings benefits, fitness rooms have been one of the most in demand and rapidly growing rooms in residential new construction. In fact, 2/3 of prospects spending over $500k consider a fitness room essential, according to the NAHB, a number that has been constantly on the rise throughout the years and even more so in a post Covid world.
Fitness Room Costs- What To Expect
If your new dream home includes a dedicated fitness room, you are probably wondering- How much should I prepare to spend on outfitting my fitness room? At the end of the day, this of course comes down to your personal financial situation and what you're looking for. Much like any other room in your house, the cost can fluctuate based on a variety of different factors including flooring, material, quality of product selection, technology selection, etc. But ultimately the goal is to create a space that you will love, will keep you challenged, is safe, and looks great.
Low-end
A fitness room doesn't have to fully loaded to be efficient (in fact, we are big proponents of open spaces). With state-of-the-art eco-friendly flooring, a commercial grade spin bike, powerblocks (interchangeable dumbbells), and a trx, you are in business. There are also now some great fitness streaming options available which you can stream right to your tv or smart device for at-home training (some of the classes don't even use equipment, you just need the space). If you are looking for more of a barre/yoga room, all you need is the right flooring, mirrors, and maybe even a ballet bar.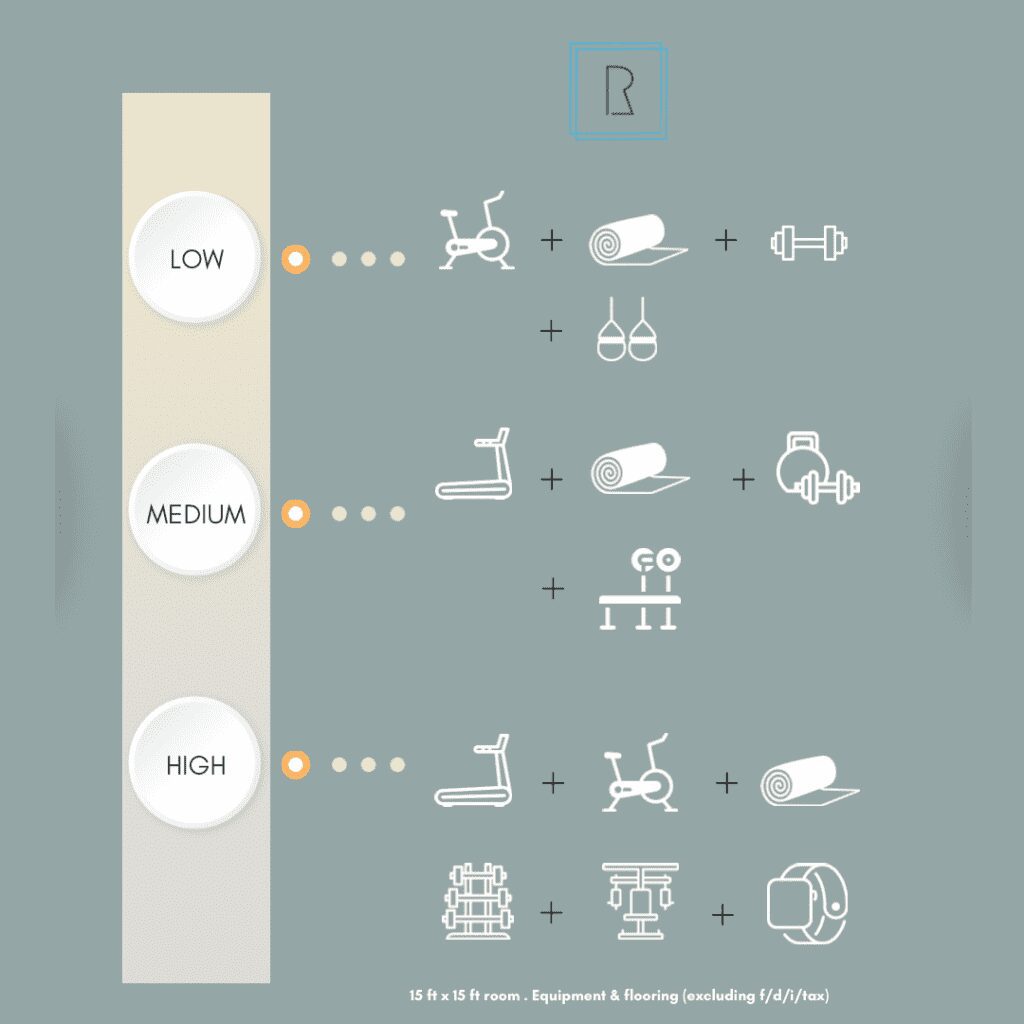 Mid to High-end
Looking to create your dream sanctuary at home? We've got you covered. Premium, gym grade cardio with frame color and HD touchscreen console options (with Apple Watch capabilities), U.S. made strength training equipment (also with color options), benches, innovative storage solutions, multi-color gym flooring, high-end accessories, and more. You don't have to settle for the gym or hotel to find the best workout equipment (investing in quality also means less service calls). Create the truly unique-to-you space you've been dreaming of that will keep you motivated and will help you achieve your fitness goals for the long term.