4 Treadmill Options From Roombldr
January 1, 2023
/
/
Comments Off

on 4 Treadmill Options From Roombldr
One of the most popular exercise equipment pieces found in a fitness room is a treadmill, which can have several awesome benefits and is a great place to start in a home fitness room design. Here are 4 treadmill options we like from a few of our vendors.
Side note- check out our previous post on fitness streaming options for content choices for your fitness room.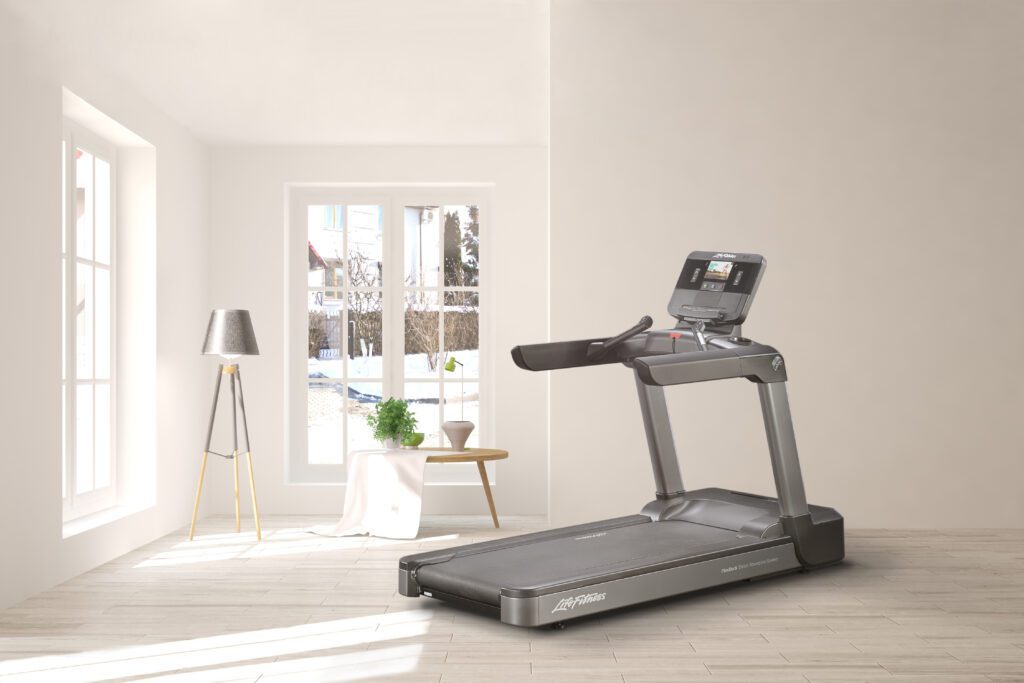 ---
Life Fitness Club Series Plus Treadmill
Roombldr Insight: We like this piece because of its quality, sleek design, frame color choices, and console options. The "FlexDeck" cushioning system (springlike shock absorbers which reduce knee and joint stress by up to 30 percent more than non-cushioned surfaces) is as good as it gets when it comes to treadmill cushioning. The commercial version (we can explain the differences) of this unit is the Integrity Series Treadmill, and is used by the most innovative and high use facilities in the world including Marriott and Planet Fitness. This piece is available in our 3D room design services.
The world's top health club supplier, Life Fitness and its family of brands have been innovating and creating state of the art fitness equipment for over 50 years. You can find Life Fitness equipment in the top health clubs, resorts, recreation centers, and multi-family amenity spaces in the world.
Rooted in more than 20 years of reliability, innovation and exerciser insight from health clubs worldwide, the newly redesigned Club Series+ Treadmill is now stronger and sleeker than ever – but retains the durability you've come to trust.
Frame color and console options available. Click here for brochure
KEY FEATURES
The reinforced upright design, aluminum kick-resistant endcaps and FlexDeck™ shock absorption system ensure this treadmill will stand the test of time.
Open space near the console provides more room for arm movement, and remote speed and incline control built into the handlebars lets you make adjustments without interrupting your workout.
This workhorse treadmill looks great in your home, with high-end finishes and a modern design.
The intuitive touchscreen console creates a connected running experience. Your last workout is automatically saved, so you can replay it and strive to improve your performance. Challenge yourself with our auto-refreshed trending workouts. And, watch your progress over time and send workout data to your favorite apps through Bluetooth® and NFC connection.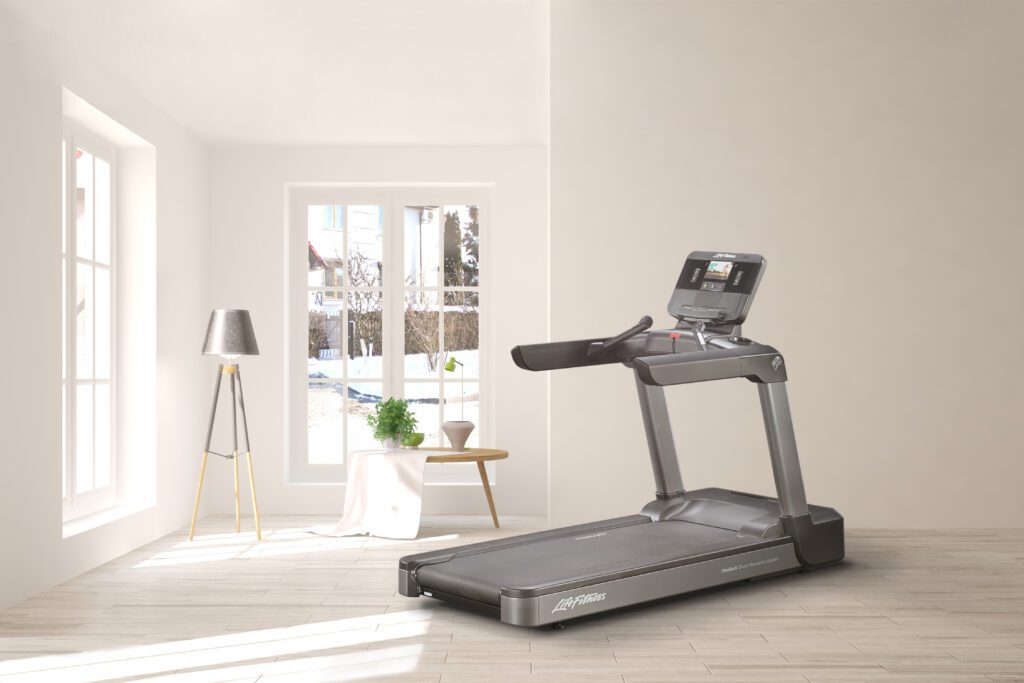 ---
Cascade Ultra Runner Treadmill
Roombldr Insight: As far as non-motorized slat tread treadmills go, this is one of the best on the market. The magnetic resistance feature is cool and unique and great for interval training. Very space efficient design and the console is simple and intuitive, which means you aren't paying for features you won't use. It is also commercial rated and durable enough to be used in gyms and health clubs. Cascade has some of the best cardio products available for the price, and we like that they are constantly trying to innovate and make their products different, while keeping high standards in quality.
Based in Woodinville, WA, Cascade Health and Fitness was founded over 25 years ago to bring the industry the best performing health and fitness products, at the best prices. Their innovative product portfolio includes Functional Trainers, Group Cycling, Air Bikes, Curved Treadmills, Climbers, and Indoor Rowers.
Winner of Fit Prof's Best Non-Motorized Treadmill under $5k, The Cascade Ultra Runner not only gives you all the exercise benefits of a self powered curved treadmill, it gives you the option to add 4 levels of magnetic resistance to add higher intensity training. Walk or run at your own pace then add resistance to burn more calories and add variety to your workout. Comfortable handlebars accommodate all user sizes and facilitate different exercises. Premium anti-slip molded rubber slats with sealed bearings create an exceptionally quiet and smooth running surface and reduce friction wear and tear. The ultimate training tool, the Cascade Ultra Runner is rated full commercial and built to last.
Click here for brochure
KEY FEATURES
Comfortable ergonomic handlebar allows for natural arm and hand positions
Easy to adjust 4 position intensity lever – from free running pace to maximum sled push workout
Heavy duty anti-slip durable poly urethane rubber molded slats with sealed cartridge bearings for smooth and quiet exercise
63" x 17" comfortable curved running surface for effective HIIT workouts
Rear handle makes it easy to move the Ultra Runner
Anti-slip leveling foot levelers for excellent stability
Built-in wireless heart rate monitor
Integrated wheels for smooth transportation
Improve power, speed, endurance and agility
---
Echelon Stride S7 Commercial Treadmill
Roombldr Insight: One of the leaders in the "connected fitness" field, with access to over 40 daily live classes and also thousands of on-demand classes, which are engaging and fun. We like this piece because it is built for club usage, so the hardware is very durable (more so than other connected fitness brands) and designed for high use applications. The 32 inch touchscreen is awesome, one of the best we have seen. They have multiple cardio pieces including an interactive mirror.
A Goldman Sachs backed company based in Tennessee, Echelon Fitness's portfolio includes connected indoor bikes, treadmill options, stationary bikes, other fitness equipment, and on-demand and live-streaming fitness content.
Discover a world of on-demand treadmill classes led by motivating instructors who inspire guests to reach their fitness goals. The impact-absorbing running deck and steel frame are designed for heavily trafficked gyms and fitness facilities. Access speed and incline settings from the HD Touchscreen or easy- access handlebar controls for smooth adjustments during every workout.
Click here for brochure
KEY FEATURES
32" Glass HD Touchscreen
Live and On Demand Treadmill Classes
Integrated Heart Rate Sensors
DURO50 Suspension Running Deck
Speeds up to 15.5 MPH
16 Incline Levels
Built In Cooling Fan
Large Side Steps for Easy Step-Off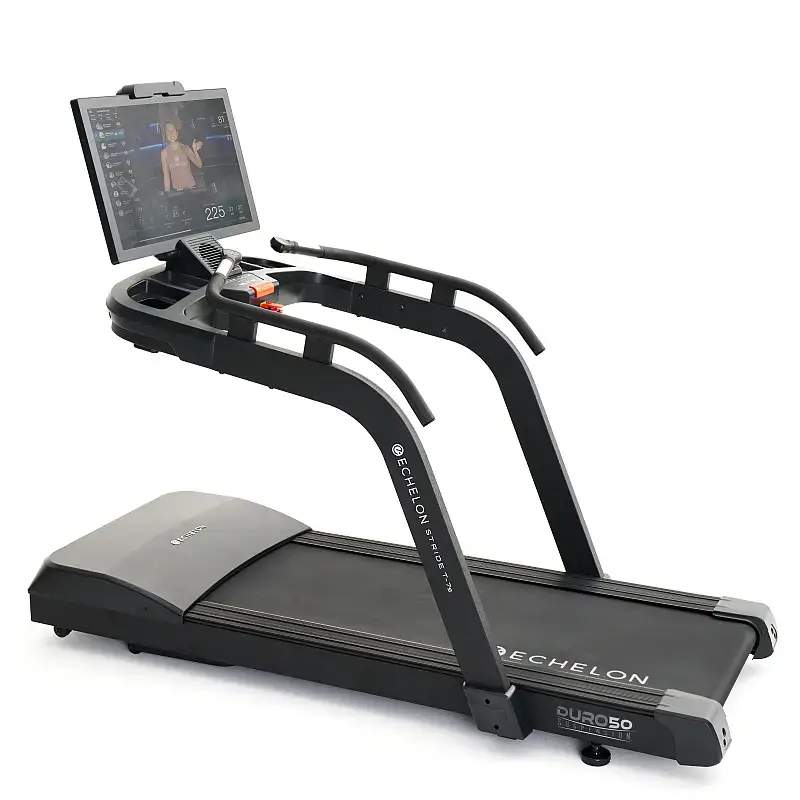 ---
Cybex R Series Treadmill
Roombldr Insight: Cybex treadmills are a direct result of extensive research into the biomechanics of running (we love their approach to creating products). The IS4 Intelligent Suspension System caters to runners by providing a gradual deflection progression leading to "soft" landing on a large portion of the tread area. It matches the mechanics of running— soft upon landing, firm in the middle and rigid at toe-off. Very sleek and modern looking design. Cybex offers a complete innovative catalogue of both strength and cardio products, most of which are available in our design software.
Cybex has been creating and delivering high-performance, science-based fitness machines for over 45 years. They are a trusted partner to health clubs, YMCAs, JCCs, professional sports teams, colleges, universities, country clubs, and offices throughout the world.
The R Series Treadmill combines an intuitive exerciser experience, results-driven design and inviting modern aesthetics. Rooted in the Cybex history of effective cardio equipment, but with a sleek modern look that earned it a 2018 Good Design Award from the Chicago Athenaeum Museum of Architecture and Design.
Click here for brochure
KEY FEATURES
IS4 Intelligent Suspension System matches the mechanics of running— soft upon landing, firm in the middle and rigid at toe-off.
A low step-up height of just 8-1/2" and running surface area of 21" x 60" accommodates a wide range of exercisers.
Interval Training Zone allows for easy speed changes for runners.
Cybex Service Wheel (optional) allows the treadmill to be moved easily during equipment rotation and routine maintenance.
Standard internet connection provides detailed equipment use information, exerciser insights, preventive maintenance alerts and more.
Two console options: 70T Console includes on-demand workouts, integrated TV, touch screen, and an enhanced exerciser experience. 50L Console offers simplified interaction and a bright LED display.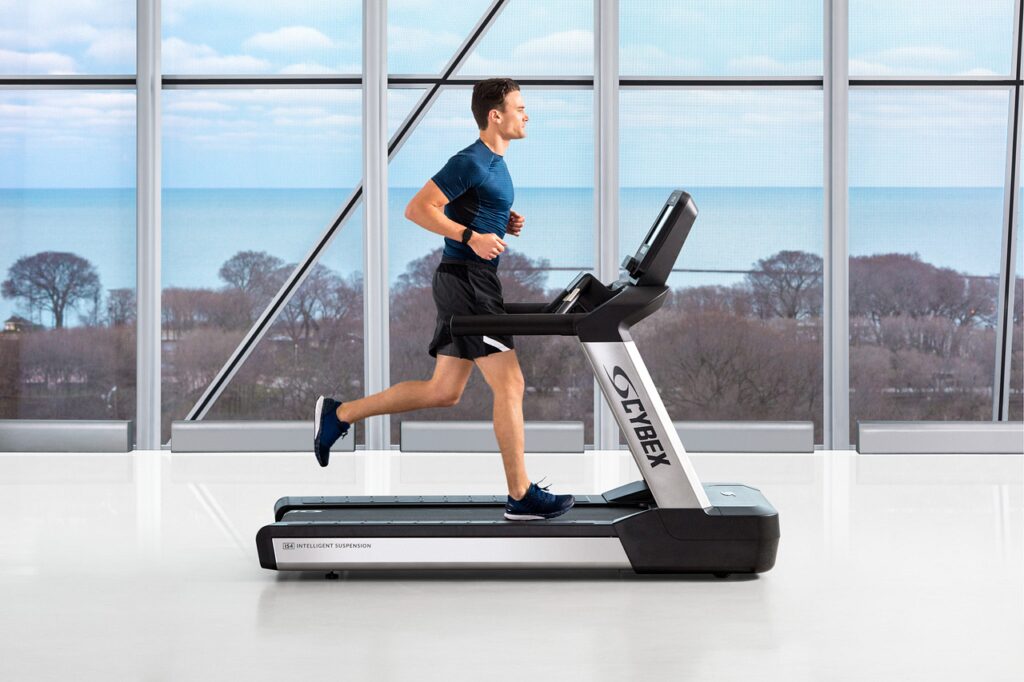 ---
Proven brands, innovators, and market leaders, Roombldr focuses on products that you can find in some of the most high end and high use facilities in the world.
We use a combination of data (best sellers), service intel, innovation and design features, and other factors to determine our preferred selections. Almost as importantly, these are also the pieces our install and service networks are specialized in based on sales in other channels (clubs, hotels, resorts, etc.).
For more of our treadmill options, reach out to us to have a chat.